Diwali Festival in India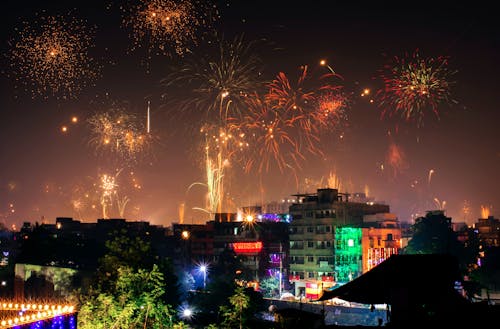 Diwali festival :
Diwali is the festival of lights. It was one of the biggest and the grandest festivals in India. It was mainly celebrated in India. Diwali is also known as Deepavali, it is in between October or November. It was celebrated after 20 days of the Dussehra festival.
Diwali is celebrated in honor of Lord Ramchandra. As per Hindu mythology, it was believed on the day Lord Rama returned to Ayodhya after 14 years of exile.
People also worship goddess Lakshmi and lord Ganesha at the festival of Diwali. Lord Ganesha was known as the demolisher of obstacles.
Diwali is a festival which is enjoyed by everyone. On Diwali, we tend to forget that bursting crackers lead to noise and air pollution. It is very dangerous to kids and even causes fatal burns.
Diwali is rightly called the festival of light as a whole brightens up on this day. This festival brings up joy.
Diwali is known as festival of lights.
It was one of the most biggest and famous festival of india.
This festival celebrated in the memory of lord Rama who returned to ayodhya after 14 years of exile.
On this occasion hindhu lights candles and decorate their houses with rangolli.