Egg Fried Rice – Best Fast Food Recipe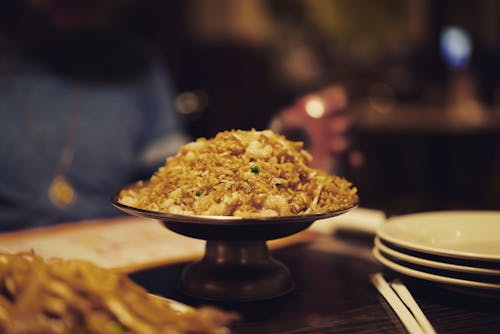 Egg fried rice::
Here fluffy and aromatic egg fried rice is a crowd-pleaser. When you this dish at home it brings you back memories of wonderful days with family and caught up with friends over dim sums, herbal teas, and fried rice.
Preparation of egg fried rice:
Rice:
First, actually, wash and soak rice for 20 minutes. Cook, it then drains it to a colander. Cool it completely.
Veggies:
Here in this, we take carrots, cabbage, and bell peppers. And we take peas, corn or French beans as you like. we have to take half a cup each.
Eggs :
Make this fish in 2 ways either by cooking eggs with rice and vegetables or cook separately. But actually, I took the eggs and vegetables to the same pan. We need 2 or 3 eggs as your choice.
1. Heat 1 and a half tbs oil in a pan on a high flame. Take chopped garlic. Fry till 30 to 40 seconds.

2. Add 3 to 4 tbs spring onions whites and fry for a min.

3. Take carrots, capsicum, and cabbage of half cup each. Fry for 2 minutes.

4. Mean while take 2 eggs beat them in a bowl until frothy. Slide the veggies to the side in the pan.
5 .lower the heat and pour the eggs. Scramble and cook in medium heat. If it is too dry then you add more oil.

6. When the eggs are cooked in a soft set sprinkle 2 or 3 pinches of salt.
7. Increase the heat and pour 1 to 1 and a half tbs add sauce and tamari in it. Add vinegar 1 tbs also
8. Add cooked rice and cooled rice, half teaspoon ground pepper bit of salt, 3 to 4 tbs of spring onion greens.
9. Increase the flame to the highest and fry for 2 to 3 minutes. Add salt, sauce and black pepper to your taste. Now serve egg fried rice hot