Everyone needs a mother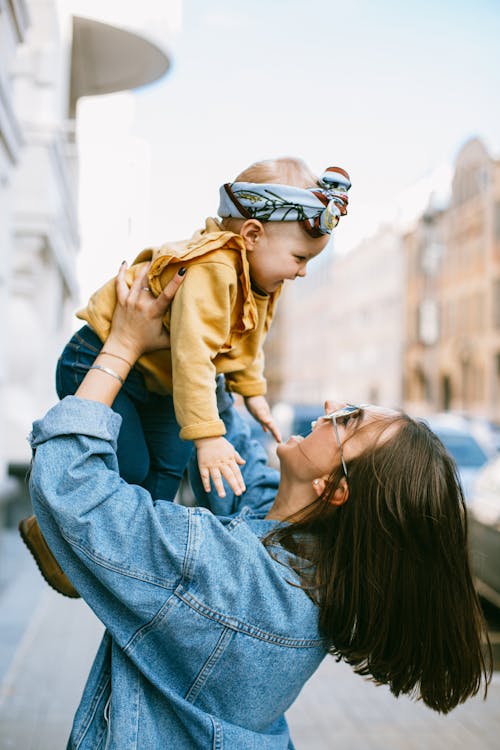 What difference does it make ….. how old he is?
Everyone needs a mother !!!!
Everyone needs a mother, big or small …
Veena live in Mumbai with her mother-in-law and her husband Sandeep.©️
Anuradha, 1 year old daughter of Veena and Sandeep.
Anuradha was very sweet. She will be pampered by everyone when she sees her, but as she is a girl, her grandparents did not show much love for her. That's what it used to be. This generation also had this idea …©️
But, this thing was constantly bothering Veena. But since Sandeep was not talking about it, she also had to remain silent. Many times she was ignoring a lot. But she was sad inside for her daughter. Not everyone behaves like this for her only daughter. So she used to suffer a lot.©️
He often did a lot for his daughter, but in secret … because she didn't want to hurt anyone.©️
Today is Anu's second birthday.(veena) She has been very excited since the morning of her birthday. She wakes up in the morning and takes her daughter close. She loves her very much and starts her work. She prepares an office box for Sandeep. She done our work because today is Anu's second birthday. While giving the box to Sandeep, she tells him to bring cake when he comes !!. He says yes and leaves immediately.©️
She knows that she will not be allowed to celebrate her birthday at home so she secretly decides to celebrate her birthday in the room. In the evening Sandeep comes home and opens the door. And first of all he asks about the cake. Sandeep tells her that I forgot. And why don't moms and dads even celebrate birthdays like that !!! That's why he says he will come without bringing a cake©️
Veena feels bad that Sandeep can't do this much for her daughter. She finishes cooking and goes out to Sandeep as soon as I come. She takes the cake for her daughter's birthday without it, takes the decorating ribbons. Before coming home, he goes to his room. He decorates the room. He comes out and packs everyone's food. He covers everything and then his mother-in-law goes to his room and then comes to the room with Sandeep and Veena ,Anu. Sandeep sees in the room that Veena has decorated the room with lighting. Was, the cake was placed on the bed. Anu was very happy to see the lighting. Tears well up in Sandeep's eyes as he shows his happiness by playing nice talas.
He thinks ………. I couldn't do this much to make my daughter happy. Without explaining to him. This is our life. She takes out the camera she has brought and they take great photos. Decorate them in your memory.©️
Day goes by. Anu is now 15 years old. She looks exactly like her mother. Today she is ready to go to school. Mother helps her in all her chores without fail, and Anu leaves for school. When she comes back from school, she touches her stomach and enters the house. Seeing her in such a state, grandmother realizes that the day of her month has started. Grandmother calls her without stopping her.
Veena takes her to the next room and prepares her there. Anu was in pain. She was sad without seeing this.
Veena comes to Anu's room after finishing her work. Sandeep is sitting outside the room. She dances for her to get her attention out of the pain. Anu is happy to see this. And without telling her to do this dance, she gets up and dances with her mother. But Sandeep takes his mother out. And then Veena takes Anu on his lap and puts him to sleep. He takes her out without smiling.©️
She always stayed with her daughter without all these little things. Anu was now married. Keeps track of every minute of your daughter without getting married today. On the phone, if Anu doesn't pick up the phone, he leaves a message. This way your daughter is always in touch. Anu had days now. She is going to be a mother. But this time there is no one with her, her husband is out of town for work. She does not inform her mother about this. She calls as usual, she does not pick up the phone, sends messages but does not answer. Because she knows, Mom will take care of her. Anu thinks only about her mother. If there was a mother ..©️
And with such a thought she falls asleep crying. And she wakes up in the morning. When the milkman comes. She opens the door, takes a bag of milk and closes the door. She calls out to her mother. Tears flowed from Anu's eyes and she quickly went and hugged her mother. Mother took her close with love. And the two of them came in.©️
She speaks her mind to her mother. Mother, how do you understand me? How do you know that I am in trouble?
Yes. And the mother smiles and hugs her. Only the mother can hear your daughter's heartfelt call …©️
A little thing just in mother's memory ..
"What matters is age.
Is ….
Motherhood is needed at every age "……
Is for every person …… !!!!!!!!!!!
Preeti Ghasale …..
take care someone, that's only for you take care of me all that time, Every moment I spent with you keep those memories with me, which I have woven with you all the time take care of my own self, I cherish the one who is only with you you keep me those memories in…
https://youtu.be/ptzv9x7v6bY
take care someone, that's only for you take care of me all that time, Every moment I spent with you keep those memories with me, which I have woven with you all the time take care of my own self, I cherish the one who is only with you you keep me those memories in…
This is a diy hair mask . Ingredients: 1 egg 2 and half tspoons of Castor oil. Stir it well and apply on ur hair and let it be for 45 mins. Then after that wash ur hair with soapnuts. Check the full video for more information.
Please do support and show some love guys.