Hairstyle for girls: Easy guide for simple hairstyles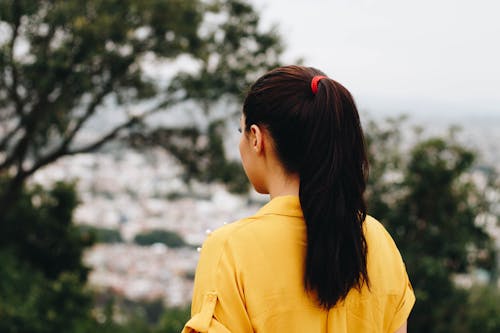 Girls can style their hair in various ways. Styling hairs can be classy and trendy. Check this article to have an idea of various hairstyles.
There are various ways of styling hair for girls that are quite trendy and classy. A modern hairdo is what a girl wants. If you got a haircut, the only thing is to style your hair in a modern Stylish way. There are hairstyles for every age, hair type, and hair shade. You just need to have some idea about it.
This article is going to give you some ideas of some hairstyles for girls with short, medium and long hair.
Some easy and simple hairstyles for girls:
Sleek ballet bun: This hairstyle is going to give a bold and vibrating to your face.
Parted and teased in the back:
It is going to look great on your child. You just need to part a bit of the front side of the hair into two and the rest hair left behind.
Faux side bangs:
This hairstyle will look quite cute on girls. Just pin one side of the hair with a Bobby pin and it will provide a natural breezy look.
Parted high ponytail:
Rather than trying in a normal ponytail, just part the front side of the hair and pin it on one side of the ear, and with the rest of the hair tie a ponytail. It will give a whole fun new look.
Beachy waves:
If your child is bored of straight hair, just tie two braids at night. In the morning, she is going to have curved wavy hair which would look quite stylish.
Wrap around ponytail:
This hairstyle is quite trendy in the market. Just tie a ponytail on the top. Then take a few and stuck them tightly with a clip. Make sure the band doesn't show up.
Face framing pieces:
It would look better in layered hair. Just tie a bun and leave some of the hair at the front just to frame your face.
Low side ponytail:
This hairstyle is quite trendy and cheerful. Just tie a low-down ponytail on one side of the shoulder. Use bobby pins to secure the remaining hair on the nape of the neck.
K. Vishwanath is a legendary Telugu film director, screenwriter, and lyricist who has made a significant impact on Indian cinema. He was born on 19 March 1930 in Machilipatnam, Andhra Pradesh, India. Vishwanath started his career in the film industry as a lyricist and later moved on to become a director. He is considered as…
Continue Reading K Vishwanath – Telugu Film Industry Lost Another Gem
Complete summer coffee pack ::: In this summer coffee pack is only skin care kit it is the pack all the essentials you'd need for summer ready skin and hair. It is suitable for all the skin types, which is set is supercharged with caffeine goodness that ll get addicted to good. Summer essentials for…
Winter skin care set:: We addicted to all the good that coffee packed with all things coffee, the must have skin care set for dry skin has coffee body polishing oil, coffee body scrub, coffee face mask and coffee face serum. Polishes and Exfoliates: Here with coffee at it's core, the must have skin care…
Summer essentials for hair and skin: The summer personal care kit is your one-stop-shop for all you need to keep your skin stunning and hair breezy throughout the season. This kit contains best-selling skincare and haircare favorites such as the award-winning coffee body scrub and it was India's first coffee scalp scrub. Packed with caffeine…
Face brightening kit:: This face brightening kit, helps you get even-toned, blemishes-free, brighter, and glowing skin with regular use of the experience that fresh, young, and vivacious look you have always wanted. It helps in dark circles, blemishes and makes you look all glammed up. In this face brightening daily cleanser:It helps in giving skin…
Dandruff shampoo:::Dandruff is a scaly, itchy scalp condition where clums of skin cells come together to create flakes in your hair. If you have mild to moderate Dandruff treating with shampoo can often help keep flakes, itching, and irritation.What we have to look for Dandruff shampoo: When you start looking for Dandruff it is very…
Pimple clearing face wash:: That's about it : Pimple clearing face wash is a gentle yet effective way to cleanly breakups for your pimples. It ensures your pimples never get back together. Here the neem lemon formula works well on skin prone to pimples, within 7 days, will set you on the path to far…