Only when it comes to itself does it know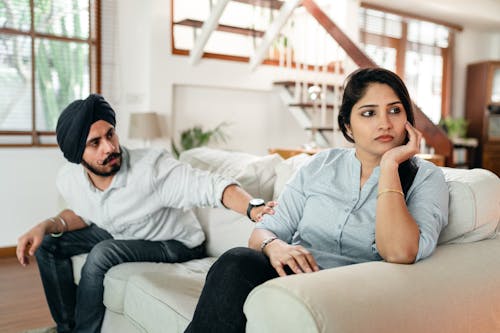 only when it comes to itself does it know ….
today, seema had a quarrel with her husband. she was just to go to her mother s house and why not, today it was 2 years, she had not gone to her mom's house. her poor mother is always waiting for her to come. preparations have to be broken for one reason or another. this is what happens. today, after 2 years, she prepares again and in n time, her husband vaibhav is explaining to her, so she is arguing.©️©️
vaibhav says. slowly talk is listening to the all members, but she was very angry today. seema says !!! this is how i did it last time. my mother-in-law did not let me go as the distant guests came on time. it was fine then but now my ticket has also been issued, not everyone knew this !!!!. , says vaibhav !!!. but tomorrow the big parents will come, they will take the mother to their village for work and leave "kimi" (daughter of the big parents). i don't want anyone here, and arvi (vaibhav's) sister's) wedding is approaching.©️©️
seema says it's time for arvi's wedding. and where i'm going to stay for a month, for ten days. "kimi" is with arvi, they can work together for a few days. vaibhav says, "okay." think of mom, if she says yes, i'll let you go. you know, mom won't go any further.©️©️©️
mother-in-law is at work. seema says, mother, should i become a go my mom's house for a few days ???? i haven't met my mother for a long time, and my ticket has been issued by vaibhav, you know. i will be back in ten days. and i will meet my mother. get angry !! you know why some house visitors will start coming, and i'm going to the village too. seema says who will take care of the house !!! mom, it's too late for the wedding now and i'll be there by the time we start preparing.©️©️
that's when arvi comes in. and says seema !!! what a daughter-in-law you would have loved to go to your mom's house all the time, mother says there is no work at home i am avoiding her words like you all my friend's daughter-in-law how much they prepare for your sister in law s wedding, and you constantly name to go home. seema said !! !! i will be back soon and there will be a "kIm" to help you. don't take care of the two of you until i come home.©️©️
arvi says, no, i have to work in your parlor now, i want to clean my hands and feet …. finally my mother-in-law says, i will go after the marriage is over, where is your mom's house not running. it will be there and the ticket can be canceled. go now and make juice for arvi.©️©️
seema leaves from there and goes to the kitchen and makes juice by babbling. as she brings yes, seema takes the juice. and at the same time, her break breaks. so she is sad.©️©️
as time goes by, arvi's wedding is approaching. seema is busy preparing for arvi's wedding and arvi's wedding goes smoothly. at arvi's house, her mother-in-law sends her to mom's house for only two days after the wedding. she says to her husband, what a son-in-law bapu would have kept the leader for a few days.
in it, arvi's husband says, yes, he would have kept it, but his mother has a knee surgery . so he takes her.
a few days after the operation, arvi's mother calls her. her mother-in-law picks her up. arvi's mother says ?? the operation was done, now everything is fine, by the grace of god, it is done for you and now the rest is here. arvi's mother-in-law says, "yes, but i have a little trouble walking." the operation has just taken place so it is not right to put too much emphasis on it.
and now it's vacation so my daughter is bringing her son. she was pregnant. you must have known at the time of marriage that she also delivered her father-in-law because i had an operation. so now it is not possible to send arvi. and her mother-in-law calls arvi, saying that she will not be able to talk to her mother anymore.
arvi tells her mother how mother chose her father-in-law, i don't even have a minute. i miss you, but they don't let me go.©️©️
arvi's mother is very sad. and in sadness she sits and thinks. vaibhav listens to her and asks what happened mother ???? mom says look !!! arvi doesn't get to come home for several days after meeting her, but her mother-in-law makes excuses. vaibhav says that her mother is someone's daughter and she hasn't seen her mother for a long time. her mother has been waiting for her daughter to come for a long time.©️©️
arvi's mother calls out to seema and says, "go to seema, get ready to go to your mom's house. you can stay as long as you want. gaurav will leave you."
🙏🙏🙏🙏🙏🙏🙏🙏🙏🙏🙏🙏🙏🙏
preeti ghasle ……
K. Vishwanath is a legendary Telugu film director, screenwriter, and lyricist who has made a significant impact on Indian cinema. He was born on 19 March 1930 in Machilipatnam, Andhra Pradesh, India. Vishwanath started his career in the film industry as a lyricist and later moved on to become a director. He is considered as…
Continue Reading K Vishwanath – Telugu Film Industry Lost Another Gem
K. Vishwanath is a legendary Telugu film director, screenwriter, and lyricist who has made a significant impact on Indian cinema. He was born on 19 March 1930 in Machilipatnam, Andhra Pradesh, India. Vishwanath started his career in the film industry as a lyricist and later moved on to become a director. He is considered as…
Continue Reading K Vishwanath – Telugu Film Industry Lost Another Gem
CricQ – Cricket Quiz App. The best cricket quiz app in the world. Cricq: The Ultimate Cricket Quiz App for Fans Cricket is a sport that is loved by millions of people around the world. Whether you're a die-hard fan or just enjoy watching a good game every now and then, cricket has something for…
MovieFlix: The Ultimate Quiz App for Movie Lovers Movie lovers rejoice! A new app has hit the scene, and it's designed specifically for those who love everything about movies. Meet MovieFlix, a quiz app that tests your knowledge of the biggest and best films of all time. Whether you're a die-hard movie buff or just…
HIPI: The New Short Video App Taking the World by Storm In recent years, short video apps have become incredibly popular, with millions of people around the world using them to share their lives, tell stories, and showcase their creativity. One of the newest players in this space is HIPI, a short video app that…
Hotstar: India's Premier Streaming Service Hotstar is a streaming service based in India, offering a vast library of TV shows, movies, live sports, and other content. The platform was launched in 2015 by Star India, and has since become one of the most popular streaming services in the country, with a user base of hundreds…
Mobikwik: The Leading Mobile Wallet and Payment Solutions Provider in India Mobikwik is one of the leading mobile wallet and payment solutions providers in India, with a user base of over 150 million. The company was founded in 2009 by Bipin Preet Singh and Upasana Taku, and has since established itself as a major player…